Wakefield Estate
From WakWiki
Cyrus Wakefield's large estate was once located on Main Street on the site of the present Galvin Middle School. His mansion was sited approximately opposite Richardson Street, on what is now the school parking lot. The Wakefield estate covered hundreds of acres on both sides of Main Street, and included most of the land bounded by West Water Street, Main Street, and North Avenue, as well as most of the land between Water Street and Bennett Street.
The large stone mansion was built in the early 1860s in Second Empire mansard style, and was complemented by a barn, gazebo, greenhouses, canals and orchards on the grounds which extended back to North Avenue. Cyrus Wakefield died in 1873, and the house was then occupied by his widow, Eliza Bancroft Wakefield, who died in 1877. The estate passed into the hands of relatives, as Cyrus and Eliza had no children. The Town voted to buy the property in 1913 at a cost of $25,000. A few years later, the town voted to use the property as the site for a new school building. The mansion, which had fallen into disrepair, was torn down on October 17, 1921.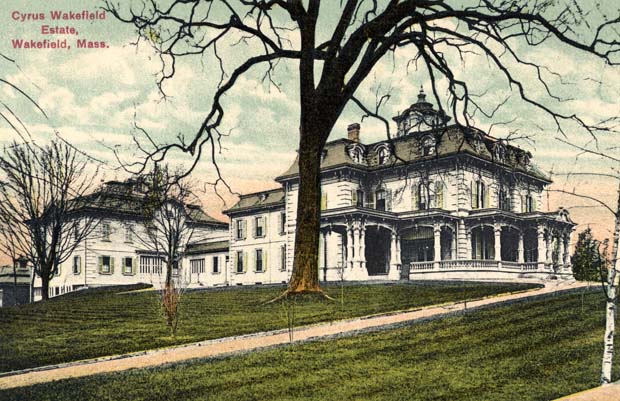 (The Wakefield mansion in an undated tinted postcard)
References
Wakefield : 350 years by the lake : an anniversary history / compiled by the Wakefield 350 Writing Committee ; edited by Nancy Bertrand, 1994, p77-83.