Beebe Farm
From WakWiki
The Beebe Farm once occupied a large tract of land on the eastern shore of Lake Quannapowitt, including much of the North Ward north of Cordis Street. Most of the land has since been developed, but the main house still stands at 142 Main Street in Beebe Cove. Reputedly built in 1810 by noted architect Samuel McIntire of Salem, the Federal style house has several later alterations, including a cupola added between 1858 and 1865. The house was originally the home of the family of Lucius Beebe, and was known as the Beebe Estate or Beebe Farm.
Lucius Beebe's grandson, Lucius Morris Beebe, wrote that his grandfather's selection of Wakefield as a location for his estate was "more or less arbitrary", and was due partly to its convenience to Boston, where his business was located, and the Boston & Maine Railroad. It was originally built as a gentleman's estate for a member of the Forrester family of Salem. Beebe moved into the house in 1852. It was said to have had one of New England's first indoor bathrooms, with a bathtub "of monstrous proportions" to accommodate its owner's six foot four frame. The farm had flower gardens, melon patches, and substantial corn fields. The family also maintained a herd of approximately 100 milk cows and a number of stable horses.
After Lucius' death in 1884, the house passed to his sons, and was purchased from his other brothers by Junius, Lucius' ninth child. It remained the focal point for gatherings of the large and scattered family for many years. Grandson Lucius Morris Beebe, a nationally known socialite and writer, wrote an article for the October 1939 issue of House & Garden magazine in which he mentions that at the time, the property was owned by himself and his sister, Mrs. Lucia Beebe Rockwood. Their father Junius had died in 1934, and his widow, Eleanor Merrick Beebe, still used the home as her country residence until her death in the late 1930s.
In 1944, Lucia sold the house to Thomas Dignan, then president of the Boston Edison company. Six years later, in 1950, Marcus G. Beebe and his wife purchased the house back for the family. It remained in the Beebe family until 1963, when they sold it to Colonel and Mrs. Robert L. Kirby of Lynnfield, who subdivided the land for house lots.
The site was also once the location of the Derby-Beebe Summer House, a small elegant outbuilding also designed by Samuel McIntire. The summerhouse was later moved to Salem, Massachusetts, and is now owned by the Peabody Essex Museum.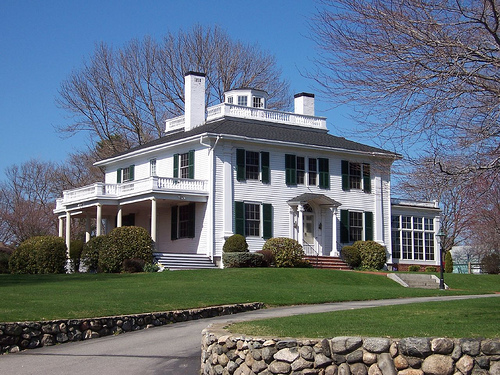 (The Beebe house in a 2008 photo)
References
Wakefield : 350 years by the lake : an anniversary history / compiled by the Wakefield 350 Writing Committee ; edited by Nancy Bertrand, 1994, p140-141, 249.
Lucius Morris Beebe, "Lucius Beebe's family home", House & Garden, vol.76, October, 1939, p46-47.
"Lucius Morris Beebe : a famous son returns", Wakefield Daily Item, Monday, February 7, 1966, p.1