Cyrus Wakefield
From WakWiki
Cyrus Wakefield is probably the town's best known citizen. Son of James and Hannah (Hemingway) Wakefield, he was born in Roxbury, New Hampshire on February 14, 1811. He was the founder of the Wakefield Rattan Company (later the Heywood-Wakefield Company) which imported rattan and manufactured rattan and wicker furniture. In 1851 he purchased a sizable parcel on Main Street (at the location of the present Galvin Middle School) and in 1861 erected a huge Second Empire style mansion, known as the Wakefield Estate. The stone house was complemented by a barn, gazebo, and greenhouses, as well as formal gardens, canals, and a pond.
In 1867 the town was considering a memorial hall or monument to commemorate Civil War soldiers. Cyrus gave the town a cash donation of $30,000 and a building lot to further the effort. The town accepted the offer and in 1868 decided to honor Mr. Wakefield by changing its name from South Reading to Wakefield. The building constructed was the old Town Hall (located at the northeast corner of Main and Water Streets) and was officially dedicated on February 22, 1871. Like the Wakefield mansion, it was also an elaborate Second Empire building. On the night of December 12, 1950 a fire started in the basement of the Town Hall and despite being contained, the damage was later deemed too great to repair given the cost. The building was eventually demolished on October 20, 1958. The site is now occupied by a parking lot.
Cyrus Wakefield married Eliza Bancroft Wakefield on October 31, 1841, but had no children. He lived in the town for 22 years. In addition to his business and philanthropic activities, he was also involved in the incorporation of the Wakefield Savings Bank, the Wakefield Real Estate and Building Association, the Quannapowitt Water Company, the National Bank of South Reading, the Citizens' Gas Light Company, the South Reading Ice Company and the Boston & Maine Foundry Company.
Cyrus Wakefield died on October 26, 1873 at the age of 62, leaving no children. He is buried in Lakeside Cemetery on North Avenue. His wife Eliza died not long after, in 1877. Their home then passed to their nephew Cyrus Wakefield II, who left it to his three children upon his own death in 1888. In 1913 the Town voted to purchase the property from the Wakefield family for $25,000. It fell into disrepair and was eventually demolished on October 17, 1921.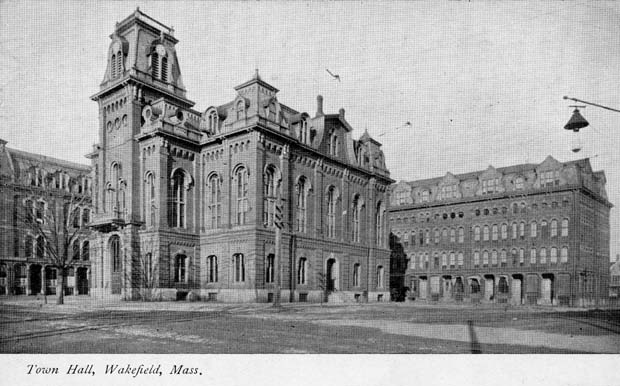 There were several other family members named Cyrus, two of whom are also buried in Lakeside Cemetery. Cyrus Wakefield II was Cyrus Wakefield's nephew, son of his brother James Patterson Wakefield and Hannah B. Hall. He was born in Sangerville, NY on October 20, 1833, and died on January 25, 1888. Nephew Cyrus came to Boston in 1855 and worked in his uncle's rattan business, traveling to Asia on his behalf. On his return to the U.S. in 1870, he married Anna B. Pierce of Newburyport, and then returned to Asia, where he stayed until the death of his uncle in 1873. He then came back again and assumed responsibility for the company and after the death of his Aunt Eliza in 1877, moved back into the large Wakefield Estate on Main Street. He lived there until his death in 1888.
The nephew and his wife Anna also had a son, Cyrus Jr., who was born October 26, 1871 and died on October 31, 1949. He in turn also had a son Cyrus (confusingly also known as Cyrus, Jr.), born August 27, 1904. He died at the age of 21 on November 18, 1924, after complications from an operation for appendicitis. These three later Cyruses are buried in the Wakefield family plot under a large red granite tombstone in Lakeside Cemetery, separate from the plot containing the graves of Cyrus and Eliza.
References